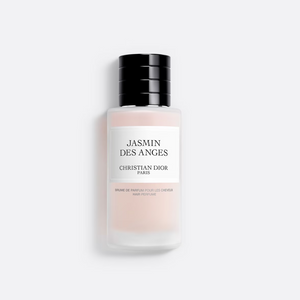 40ml Price Per 100ml: 962.5₪
DESCRIPTION

The hair perfume from La Collection Privée Christian Dior dresses the hair with the floral and slightly fruity notes of Jasmin des Anges while wrapping it in a luminous veil of beauty.

In one elegant step, the hair perfume enhances the hair with the honey and apricot-tinged trail of Jasmin des Anges, a sun-kissed fragrance that evokes the sweet way of life on the French Riviera. A single spray of this mist releases a generous and light cloud of fragrance for a moment of sensorial pleasure.

Avoid contact with the eyes and mucous membranes (nose, mouth, etc.).


APPLICATION TIPS

Discover the Jasmin des Anges fragrance ritual:
1. Apply Jasmin Élixir Précieux on pulse points (inside of the wrists, inside of the elbows, behind the ears).
2. Spray Jasmin des Anges Eau de Parfum.
3. Enhance your hair with Jasmin des Anges hair perfume.

At any time of day, spray the mist in clouds directly on your hair or on your brush to prolong the trail of your fragrance.
DIOR ONLINE BOUTIQUE PRIVILEGES

free returns

free delivery

iconic dior gift box